Southern Utah waterfowl hunting is unique and "out-of-the-box". Utah is found on the western edge of the central flyway and the eastern border of the pacific flyway. Large flocks of ducks and geese on their path south rest at the Great Salt Lake and many other reservoirs until they reach our local area.
There are so many locations where great numbers of Ducks and Geese can be found and it is worth every bit of time to find them. Whether you prefer a large body of water with a string of decoys and a call around your neck or jumping one of countless streams, ponds or small lakes. Southern Utah Duck and Goose hunting is truly a sleeper and a location not to be overlooked.
Our guides hunt any and all options similar to other areas of the country. Large bodies of water such as reservoirs and lakes are great early in the season. Late hunts are primarily field hunting or specific still-waters that stay open most of the season despite bitterly cold temperatures.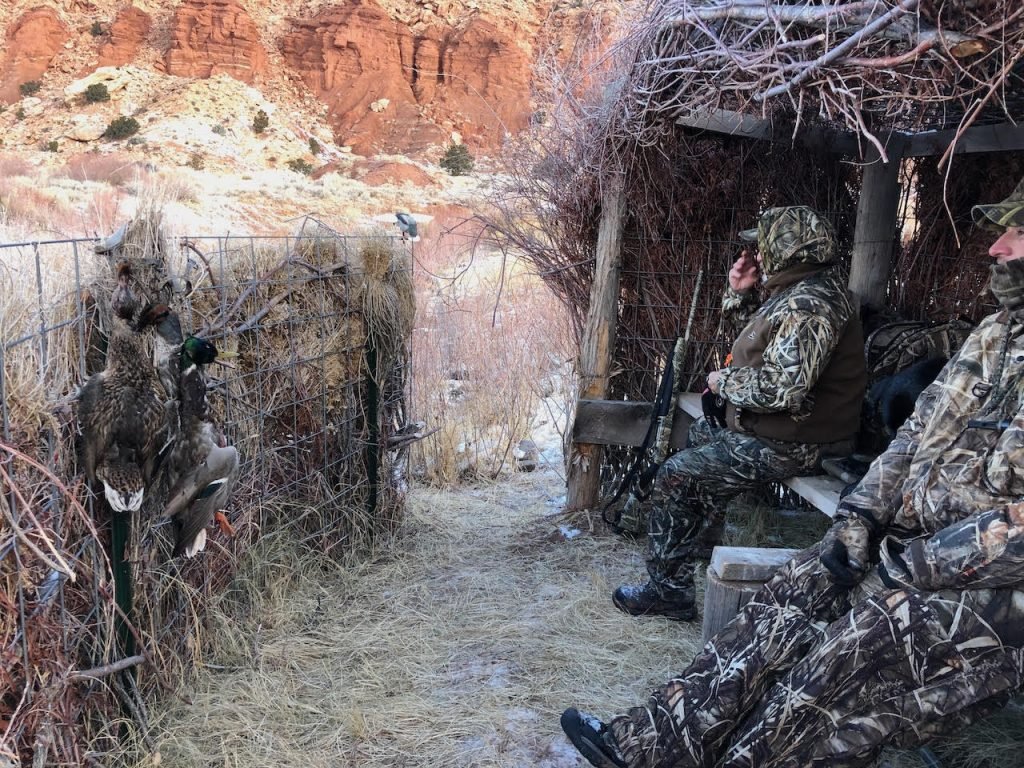 Layout blinds are used regularly for geese and mostly above ground blinds for ducks. But the options are numerous and we find ourselves utilizing every possible scenario throughout the hunt. Weather conditions are followed daily so that the proper itinerary can be planned. As northern storms bring cold wintery changes, waterfowl almost always follow. And the current birds found in the area will move ahead of storms as well. But we have found good days to be numbered in all varying weather including blue skies and sun. Southern Utah offers a myriad of hunting opportunities.
Whether it is one of the thirteen available species of upland birds, our important waterfowl migration, or our vast mountain ranges and big-game hunts that interest you, Fremont River Guides can offer a professional guide to help in the success of your hunt. Our experienced staff offers services throughout the southern-central region.